---
---
Our completely integrated suite of products simplifies your jobs and avoids duplication of effort: from buying salvage through inventory management, warehouse management with Real Time Barcoding, internet sales, brokering, production, and business management reports. Learn how our suite works together and become an expert on the tools you use every day!
Where else can you get time with the people who actually design and build the features you rely on?

Specialized Trainers will give you the individual attention you crave!
Car-Part data in Bidmate


Buy what your customers want by leveraging Car-Part's 100 million part searches

SmartVin on YOUR website


Simplify your customers' ability to buy the correct part from you without having to answer complex interchange questions.

Buy and Sell using instant communication with thousands of recyclers in the Car-Part Messaging (iCPM) network and communicate with shops in real time


Instant access to Car-Part support staff

Learn how to customize Order Trakker and simplify your production process.

Avoid warehouse mistakes with Real Time Barcoding

Increase retail sales with our eBay solution

Easily review your business metrics with graphical Roundtable Reports


Join our Roundtable to compare your metrics with non-competing recyclers.

One-click access to OEM pricing and interchange information.

Plus many more new and existing features you might not be aware of!
Effortlessly sell extended warranties and delivery and broker parts on Car-Part.com!
Discover opportunities to increase your entire business productivity with the Car-Part suite

Bring your key staff so they can be trained and master individual tools.
---
See what attendees had to say about the 2010 conference.
---
Click to view Box Auto Salvage's complete feedback
Click to read Calexico Auto Dismantlers' complete feedback
---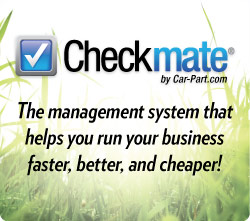 Questions about our products?
Call Car-Part at (859) 344-1925. You can also reach us via email for sales assistance or general information.