---
Personalized Training – Have it YOUR way!
Insurance and Shop Panel – Get their perspective!
New developments in Car-Part and Checkmate® – They'll help your bottom line!
Industry Trends - Keep abreast of what effects you!
Much more!

---

Thursday evening – Kickoff reception and networking

Friday evening – Cincinnati Reds game
Enjoy the game and network in our own private, air-conditioned room with balcony and full view of the game and fireworks!
PLUS a private section of outdoor seating!

Saturday evening – Live entertainment extravaganza!
You worked hard all weekend, now it's time to get rockin' with the amazing "VW Beetles" comprised totally of Car-Part staffers!
Once you pick your jaw off the ground, you won't be able to lose your smile! Oh yeah, and dinner too!
---
All training and Car-Part hospitality will be held at:


Book your room at at 859-371-2233.
Ask for the Car-Part rate.
$85 per night through July 23, 2013.
$95 per night after July 23, 2013.




$200 attendee, $125 spouse

---

Saturday only: $95

*Conference open to all auto recyclers
---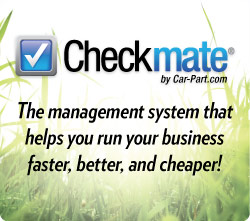 Questions about our products?
Call Car-Part at (859) 344-1925. You can also reach us via email for sales assistance or general information.