You're viewing information for
Buyers
.
Click Here
if you're a Seller.


With Car-Part Salvage, you can place offers on vehicles and buy salvage online. Car-Part Salvage allows you to make offers on vehicles from the comfort of your office, your home, or while you're on the road.


Car-Part Salvage
works closely with:

Multiple products can be
bundled to save you money.
Contact your salesperson for
details. Access Car-Part Salvage on your laptop, tablet, or smartphone. Car-Part Salvage will automatically fill your inbox with vehicles that are available and meet your criteria (for example, we can show only vehicles within a certain distance or hide vehicles that have high mileage). Decide which vehicles to place offers for with the help of Bidmate integration, which uses your Checkmate data to assess how valuable a vehicle is for your business.* Distances are displayed as actual driving distances. Create watch lists for your favorites, and hide vehicles you're not interested in.




When you make an offer for a vehicle, you have the option of specifying a maximum offer, allowing Car-Part Salvage to make offers for you incrementally as needed (until your maximum offer is reached). You can also offer a fixed amount if you prefer. Either way, your offer includes all buyer/bidder fees, so the offer you make is all you'll pay.




You can opt to receive email or text notifications if a higher offer is made, so you can revisit the offer. You can also watch vehicles on your phone. No matter where you're watching a vehicle, the information is updated in real-time — no need to constantly refresh your screen to see the highest offer.

When your offer is accepted, we will contact you to confirm the changes and method of payment. You have two days to pick the vehicle up from the holding lot, and as soon as the title is received, you can start dismantling!


*No additional software is needed to use Car-Part Salvage, but Bidmate and Checkmate customers enjoy this additional feature.


---

Requirements or Contact Your Sales Rep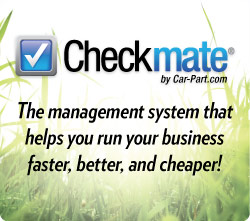 Questions about our products?
Call Car-Part at (859) 344-1925. You can also reach us via email for sales assistance or general information.