WORKSTATION | ADVANCED MANAGEMENT REPORTS | VERSION COMPARISON




Checkmate Workstation™ gives you access to eight Car-Part tools from within one program, and these tools help you increase sales and improve your business's efficiency. Checkmate Workstation is free with Internet Checkmate, but some of the tools require an additional charge.

*Checkmate Workstation only works with Internet Checkmate*




---
The Checkmate Workstation Dashboard gives you an overview of your business by displaying as many as fifteen "gadgets." These gadgets can calculate your business information for today, a day in the past, or for a specific time span. Dashboard provides you with real-time information regarding employees, inventory, sales, and more.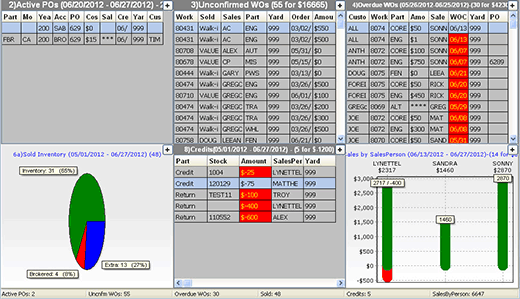 Example Gadgets:

Active Purchase Orders:




Sales by Salesperson: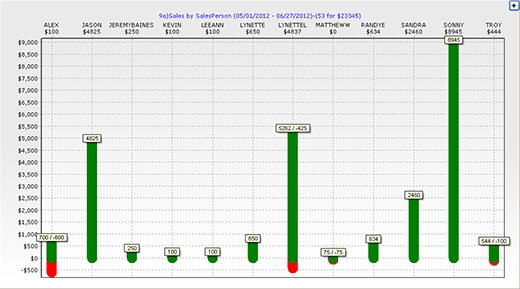 Credits:


---
Checkmate Imaging allows you to easily add images to your parts and vehicles. These images can then be viewed in Checkmate or uploaded to eBay. When you can see a picture of a part or vehicle, you can make more informed decisions when deciding between similar parts. Imaging increases employee productivity by enabling them to more accurately select which part to pull. Adding images to parts and vehicles is as simple as clicking and dragging an image to the part information screen in Checkmate. Imaging is free with Internet Checkmate!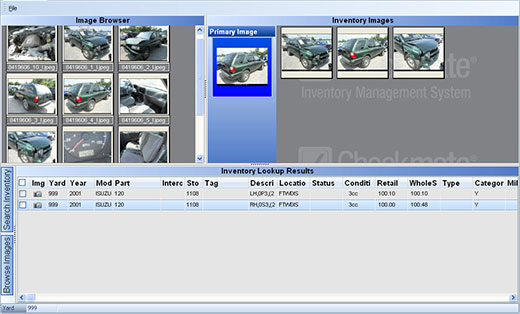 ---
Easily add inventoried parts to eBay with the Checkmate Listing Manager. This tool allows you to quickly list multiple parts on eBay. Listing parts on eBay is as simple as selecting the part(s) and clicking a button. The Active Listings tab in Checkmate can show you which parts you are currently selling on eBay, and the Sold Listings tab tells you which parts you have already sold. (To sell a part on eBay you must use an eBay store. Additional eBay fees may apply.)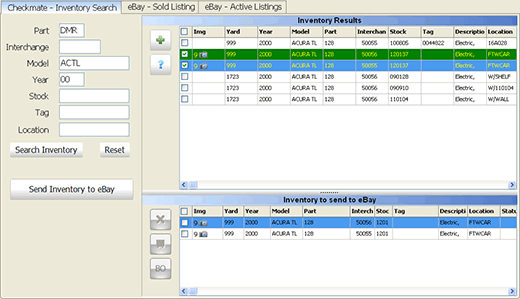 ---
Car-Part Reports dramatically increase your ability to access all data that is stored in your Checkmate inventory management system. These reports allow you to view your business in a comprehensive way that helps you make better business decisions and manage more effectively.



---
Order Trakker™ is an easy-to-use, comprehensive production management software tool that helps you track parts and work orders through your business processes. From work order to inspection to delivery, track your parts as they move through your business until the parts are in your customers' hands. Order Trakker even tracks returns!

Using Order Trakker, you will always know the status of your work orders. You will know if a work order is being held up by your dismantler, or you can access UPS tracking with one click so you'll know if your part is still on the truck or in your customer's hands.

Order Trakker tracks your parts from sales to delivery and beyond!



---
Bidmate™ is a stand-alone bidding system that allows recyclers to make accurate decisions about the value of salvage vehicles.

With Bidmate, you can get a single-screen view of all of the parts on a vehicle with request activity, profitability, average price, and a buy/no buy recommendation. It also features Car-Part.com request data, giving you an idea of the demand for parts you've never had in stock before.

A big challenge while bidding is determining a market price for parts that you may have never priced in your system. Bidmate solves this problem by giving you one-click access to Trading Partners™ so you can determine an accurate price based on the market.



---
Partmate™ is an inventory tool that makes the process of inventorying new vehicles quicker, easier, and simpler than ever before. Using Car-Part's exclusive SmartVin™ and Smart Interchange™ technology, Partmate has the ability to decode interchange numbers for most parts directly from the VIN and reduce interchange questions as you look up parts.

ARA damage codes and part grading are simplified with point-and-click graphics, making the grading process quick and easy. Just click on the type, location, and amount of damage; Partmate does the rest for you! It can even adjust part prices automatically, based on the part grade.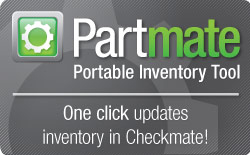 Questions about our products?
Call Car-Part at (859) 344-1925. You can also reach us via email for sales assistance or general information.