Server:
Fast Parts offers a solution which includes a robust and virus free Linux server.

Workstation:
Supported operating systems are Windows® 2000 Professional, Windows XP Professional-32bit, Vista Business - 32bit, Vista™ Ultimate - 32bit, Windows 7 Pro 32/64bit, Windows 7 Business Pro 32/64bit, Windows 7 UltimatePro 32/64bit.

Printers:
Invoice and report/statements: Okidata ML 184 or Okidata ML 186 (IBM graphics).
Tags(Optional): TSC TPP 247 or Okidata ML 184 (IBM graphics).

Terminal emulation software (Alphacom, PowerTerm, Procomm*)

Anti-virus software on each connecting workstation- Norton® Corporate, AVAST®, or AVG®

High speed broadband or DSL connection

Air card and Satellite connections may be supported (please call for more information).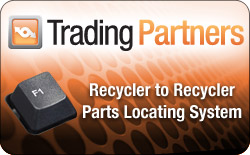 Questions about our products?
Call Car-Part at (859) 344-1925. You can also reach us via email for sales assistance or general information.