This page is an archive of previously-published content. The information was accurate at the time it was published; however, the information may no longer be accurate or complete. If you have any questions about current Car-Part products, please contact your sales or support rep.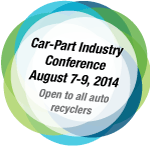 On-Your-Own Tours Offered at the 2014 Car-Part Industry Conference


Owners of these three incredible recycling facilities have graciously offered to open their doors to you for on-your-own tours! Come check them out Thursday, August 7, 2014!*




Allgeier Auto Parts

7650 Harrison Ave.

Cleves, OH 45002

8:30 A.M. – 5:30 P.M.

513-353-3377
---
Lindale Auto Parts
2976 State Route 132
New Richmond, OH 45157
8:00 A.M. – 5:00 P.M.
513-797-6707
---
Reitman Auto Parts

6810-4 Mile Road

Melbourne, KY 41059

8:30 A.M. – 5:00 P.M.

859-635-2127



Once you're done, enjoy Car-Part's kick-off reception (Thursday, August 7, 2014, at 6:30 P.M.) followed by the first round of Car-Part hospitality! Not registered yet? Please do so at http://products.car-part.com/registration or call 859-344-1925 and ask for Liz. She'll be glad to help you!

For more information about our conference, please go to http://products.car-part.com/2014training/

C'ya soon!!



*On-your-own tours can be completed during business hours on your own schedule, at your own pace. Car-Part.com will not provide transportation to/from these tours.