This page is an archive of previously-published content. The information was accurate at the time it was published; however, the information may no longer be accurate or complete. If you have any questions about current Car-Part products, please contact your sales or support rep.

Wheel Images for Customers
Make online inventory searches easier and more accurate

Wheel Imaging is a helpful tool your customers can use when searching your inventory online. Using this tool, they can view wheel images to help correctly identify which specific wheel or wheel cover they want to buy from you.

When searching your inventory online, it is often difficult for customers to decide which interchange number is applicable simply based on the interchange description. Using the Wheel Imaging tool, they will be taken to an online page showing photos of the options, which will help them to make a precise interchange selection and perform an accurate search. There is far less room for mistake when your customers can see actual pictures instead of trying to guess the correct part they are trying to locate.

Wheel Imaging is available with the Car-Part Gold package. For more information on this package and how to get Wheel Imaging for your business, contact your salesperson.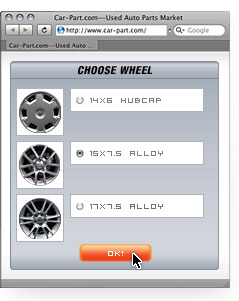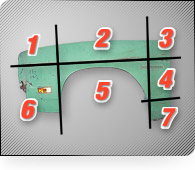 ARA Damage Codes for Body Parts
Use damage codes to grade your parts correctly
In the previous issue of the Car-Part Scoop, we introduced you to the Automotive Recyclers Association grading system. Part grades are a great way to indicate part quality to your salespeople and your customers, and many of you already know that; half of the body parts uploaded by Car-Part.com customers are graded! Damage codes communicate exact damage information and can be used to determine the part grade. When you upload inventory data with damage codes, Car-Part automatically grades your parts for you using ARA's grading standard (if you have filled out the Car-Part questionnaire).

For sheet metal body parts, the ARA has standardized 3-character damage codes that communicate the location, type, and units of damage. The first character identifies the damage location (which can be found on the ARA damage locator guide). The second indicates the type of damage (the codes for which are indicated on the ARA damage locator guide, and are fairly intuitive), and the third character indicates how many credit card-sized units of damage there are. For example, the damage code "6R1" is a part that has rust the size of one credit card or less on the region of the part labeled "6" in the damage locater guide. For most parts, an "A" grade is one with 1 unit of damage or less, a "B" grade part is one with 2 units or less, and a "C" grade parts is one with more than 2 units. There are some exceptions to this rule, however, like assemblies and wheels. An "X" grade part always means one that has not yet been graded.

Partmate™, the portable inventory tool by Car-Part.com, simplifies the ARA damage codes and part grading process considerably. In Partmate, you can use the easy point-and-click graphics to indicate the location, type, and units of damage. Partmate will automatically assign a damage code and grade your part for you. This information is automatically exported into your inventory management system, which in turn uploads this information to Car-Part.com. Now, your inventory process can be quicker and easier than ever before! The next issue will contain information about how you can determine the quality of your mechanical parts and assign the correct grade to them.


©2007-2011 Car-Part.com. All rights reserved.