WORKSTATION | ADVANCED MANAGEMENT REPORTS | VERSION COMPARISON





To compete in the salvage industry today, you need smart tools that can help you effectively run your business and sell parts. Checkmate® is the inventory management system successful recyclers choose to manage their business, maintain their inventory and sell more parts quickly, efficiently, and proactively.


---
Checkmate is designed to decrease the time spent on finding, selling, and inventorying with multiple screen functions.
Sell, quote, or edit your inventory with ease from the main screen. These time-saving features leave your sales team with more time to sell!
SmartVin™ and Smart Interchange™ technology is integrated throughout Checkmate, speeding the inventory and selling processes by helping you choose the correct part and learning as you work.
Part grades are automatically assigned to inventory based on damage codes or mileage, then uploaded to Car-Part.com for clear communication with customers.
Car-Part Interchange Plus subscribers take advantage of interchange for many additional part types that did not previously have interchange, like consoles.
The Dashboard gives you a real-time overview of your business, with charts and graphs that display essential information about sales, inventory, employees, and more.
Checkmate's reports "unlock" essential data about your business. Reports analyze your data to give you information about most successful parts, most profitable auctions, suggested price adjustments, and MUCH more!
Checkmate stimulates sales! Your sales team utilizes the simple keystroke-driven screens to quickly search for and sell parts. (Coming soon: Checkmate Sales Pro, a graphical, point-and-click user interface!)
Checkmate partnered with innovative tools like Car-Part Messaging™, Bulletin Board, EDEN™ and Trading Partners™ to help your sales team sell beyond the traditional methods of the phone or walk-in customers.
Checkmate Imaging gives salespeople a view of a vehicle or part while selling, and images will soon be able to be uploaded to Car-Part Pro in order to give your customer more confidence in their purchases from you.
Let Checkmate educate your sales team with the guidance they need to sell your parts for optimum profit. The Checkmate sales screen will make pricing suggestions based on the history of the part and will suggest when it is time to push a sale.
Search for parts from your Car-Part Exchange™ yards' and trading partners' inventories with just a keystroke, and receive customized search results.
Scan, move, and audit parts with Real Time Barcoding.
List parts on eBay with the Checkmate Listing Manager™.
Bidmate™ goes to the auction with you to help you make accurate decisions about the value of salvage vehicles.
Partmate™ makes the process of inventorying new vehicles quicker, easier, and simpler than ever before. Desktop Review™ allows you to review new parts before they are listed.
Order Trakker™ tracks your work orders as parts move through your business, from the sale to the moment it is in your customer's hands.
UPS WorldShip™ simplifies shipping for recyclers with high-volume shipping needs. WorldShip gives access to the complete range of UPS services, and streamlines your processes by connecting to Order Trakker, accounting systems, process packaging, and freight shipments, as well as displaying negotiated rates and tracking your shipments with email notifications.
EZ Route™ gives you control while planning and tracking local deliveries. Optimize your truck route, get notifications of your drivers' progress, and review costs with Management Reporting. For more information, watch EZ Route Software for Salvage Yards and Recyclers.
English and Spanish language options.
Online technical support is available to Checkmate customers whenever you need it in our Car-Part Messaging support rooms. 24-hour-a-day live support is available at 859-344-1925!


Join the many Checkmate recyclers who are members of our Recycler Executive Roundtables. The Roundtable groups, specifically for owners and managers of Checkmate facilities, provide a forum for participants to contribute ideas and solve common industry problems in a confidential environment.


---



or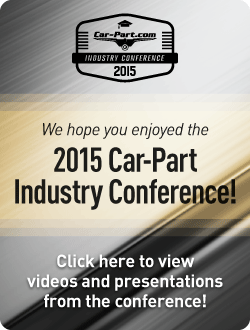 Questions about our products?
Call Car-Part at (859) 344-1925. You can also reach us via email for sales assistance or general information.