This page is an archive of previously-published content. The information was accurate at the time it was published; however, the information may no longer be accurate or complete. If you have any questions about current Car-Part products, please contact your sales or support rep.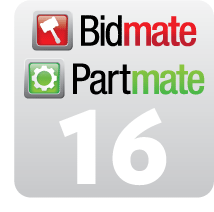 New Enhancements for Bidmate and Partmate Version 16


Version 16 of Bidmate and Partmate is the latest software enhancement from Car-Part.com! If you haven't already received this upgrade in the mail, it will be arriving soon. Visit our products site's Bidmate and Partmate training pages to watch a video about this upgrade.

This new version of Bidmate and Partmate includes several key enhancements:

Bidmate
Auction Dates to Import setting: If you subscribe to your favorite auction sites in Bidmate, you can now control which specific auctions will import from your auction site subscriptions. To access this setting, go to File>Import>Pool Data (Automatic)>Subscription Setup and select an option from the Auction Dates to Import section of the screen. The setting you select will apply to all of Your Auction Sites. Click OK to save your changes and close this window, or click Import to import auctions now.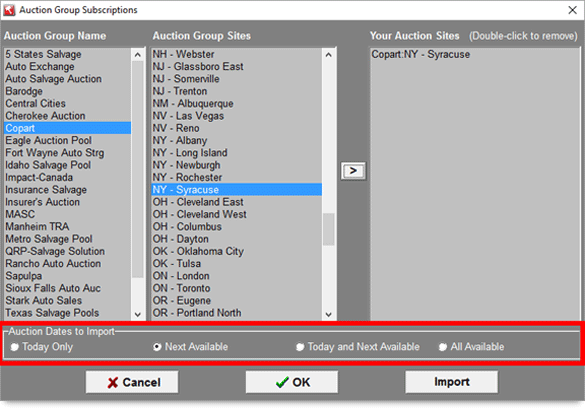 Delete multiple auctions from auction site list simultaneously: Each time you add a new auction, Bidmate saves that Auction Site Name in your list. You can delete multiple auctions from this list simultaneously by starting a new auction and then going to Edit>Delete Auction(s) from List. Check the appropriate box(es) in the Delete column, then click Delete.
Display a part's full name while evaluating parts: On the Evaluate Parts screen, you now have to ability to hover over a part code to display the full part name.

Partmate
Automatically download vehicle images from auction sites: After you mark a vehicle as Won in Bidmate, the vehicle images can now be automatically downloaded from supported auction sites as the vehicle is being imported into Partmate. In Partmate, go to Edit>Recycler Options and select the Import/Export tab. You can configure Partmate to Always automatically download images from supported auction sites, or configure Bidmate to Prompt you before downloading.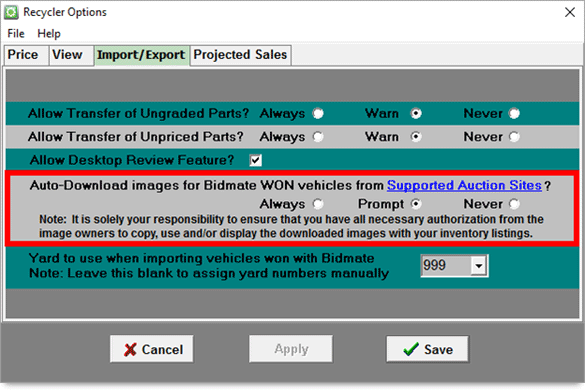 Manually download vehicle images from auction sites: If you don't automatically download images from auction sites, you still have the option to manually download those vehicle images. On Partmate's Vehicles tab, click on the camera icon at the bottom of the screen. In the window that opens, click Retrieve Images from Auction Site. If you added this vehicle manually in Partmate, you will be asked to enter the appropriate Auction Group and Auction Site Stock/Unit Number. If you imported this vehicle from Bidmate, the vehicle images will download automatically. Once all of the images are downloaded, click Save to apply the changes and close the camera application.
View vehicle pages on the auction site's webpage with the click of a button: Partmate's Vehicles tab now includes an Auction Site Vehicle Info button on vehicles that you won in Bidmate. Click this button to view vehicle pages on the auction site's website. (The page that opens is the same page you are used to seeing when you click the Photo button on the Vehicles screen in Bidmate.)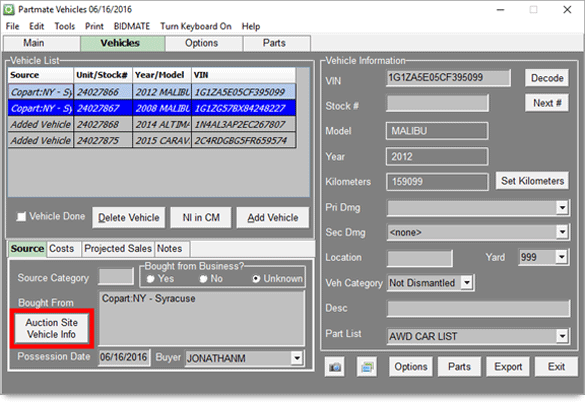 Visit our products site's Bidmate and Partmate training pages to find out more about these new features. Look for the Bidmate/Partmate Version 16 Enhancement Guide document or video. If your version 16 upgrade hasn't already arrived in the mail, you will be receiving it soon. If you have any questions, contact your support rep directly or contact our main office at 859-344-1925. We look forward to talking with you!


Did You Know?


Reports you access through the Reports tab in Checkmate Workstation can be printed using most Windows printers, but any reports you print through Checkmate Retro require a PCL6 driver. If you wish to print reports through Checkmate Retro, make sure that you have at least one PCL6 printer in your facility. If you have questions, please contact your support rep.

© 2016 Car-Part.com. All rights reserved.
All trademarks are the properties of their respective owners.