Car-Part Gold is one of the industry's most comprehensive service packages. It gives you the most up-to-date access to over 130 million parts and the simplest and most convenient ways to communicate to over 4,100 other recyclers.


The Car-Part Gold package includes many services. The specific services included in the package depend on your inventory management system and website needs.




Car-Part Pro™ is the innovative part search developed specifically for the collision repair industry. Car-Part Pro helps increase your sales to professional repairers by showcasing your recycled parts in a way that is most attractive to these types of buyers. These customers can instantly confirm a part is in stock, view accurate delivery times, search by warranty, and find service level information. For more information about Car-Part Pro, click here.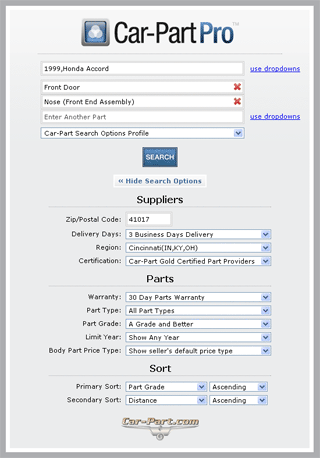 Car-Part Messaging™ (iCPM) is one of Car-Part.com's newest, most innovative products. iCPM allows you to broker parts and instantly communicate with other recyclers and customers right from your PC. With quick access to aftermarket vendors and other recyclers, built-in interchange, notifications when customers use Real Time Part Verification on your parts, and sales rooms that work more like an email inbox than standard sales rooms, iCPM makes it easier and more efficient than ever to buy and sell parts online.

Gold members can have up to 10 messaging accounts for their business. This allows each user to have an individualized account, including access to regional Sales Rooms and private chats. Your customers can also contact you on iCPM for free right from your search results page (even if they don't have Car-Part Messaging themselves!). For more information about Car-Part Messaging, click here.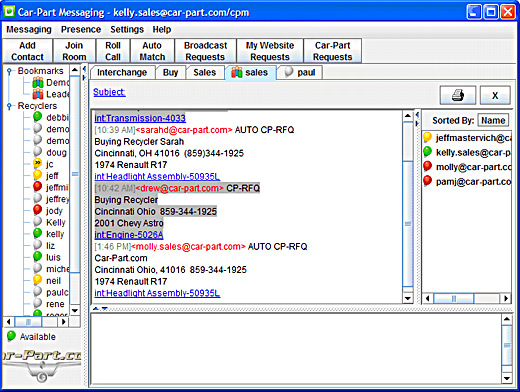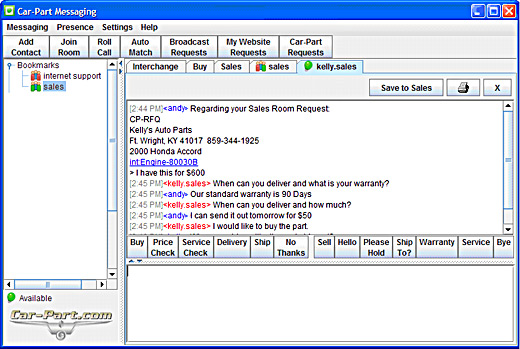 Multiple F-Keys allow you to create up to 3 separate Trading Partners group searches, so you can choose to look for parts only from a certain group of recyclers.



Car-Part Exchange provides Checkmate recyclers with the ability to broker parts from any recyclers or aftermarket parts vendors that sell their parts on Car-Part.com. It allows you to quickly contact other recyclers with questions or to purchase a part. For more information about Car-Part Exchange, click here.



Advanced Part Search Links is a group of Car-Part.com services which include the following:


Price filters allow you to adjust which prices are displayed in the results of a given search. You can include three options for pricing; these adjustments can include percent markups, fixed dollar markups, or the display of wholesale prices. You can define the price adjustments depending on how your parts are searched, whether on your website, with Trading Partners, or in data feeds.



Brokerage Services allow you to display inventory from up to 5 other facilities on your website. If you don't have a part in stock, your customers can still buy the part from you if one of your brokerage partners has it in stock. The part will appear to be in your inventory.



Up to 10 email accounts are available with the package and each account benefits from our anti-virus servers so your chances of getting a virus are slim.



Search Statistics allow you to view information about the parts your customers and salespeople search for the most. Statistics show you the most popular models, most popular parts, and most popular interchange numbers that are searched for.



Core Pricing provides you with an easy way to compare core part prices by searching for a vehicle by year and model. For more information about Core Pricing, click here.



Car-Part's Roll Call program is designed to ensure that you have a fair way of resolving potential disputes, such as a payment issues. Your Roll Call status also lets other recyclers know that you are a reliable person to do business with.





or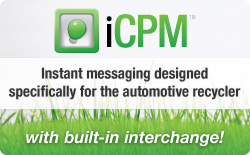 Questions about our products?
Call Car-Part at (859) 344-1925. You can also reach us via email for sales assistance or general information.