Checkmate works closely with:

Multiple products can be
bundled to save you money.
Contact your salesperson for
details.
Your Checkmate sales rep will work with you to choose the right version of Checkmate for your business. This page discusses our most popular options, available with Internet Checkmate (ICM). Contact your salesperson for details and assistance. Some tools require an additional charge. Click here to compare versions.






---
Checkmate Sales Pro is the completely redesigned, modern and intuitive interface for Checkmate's Find and Sell process. It was designed with speed in mind. Confirm in a glance that your customer is in good standing, thanks to the "thumbs up" icon on the search screen. Find and sell an unlimited number of parts at one time. See part images alongside your search results. Navigate through your workflow with your mouse or with your keyboard - however you feel comfortable.




Everything is faster and easier with Sales Pro! From the main screen, you can:


Search for the customer before you search for the part
See quick, at-a-glance information about the customer's order and payment history, along with open quotes, returns, and credits
Easily search for multiple parts at once - search by part name, part code, or OEM number
Research your quotes, work orders, purchase orders, invoices, and more
Switch between tasks in a snap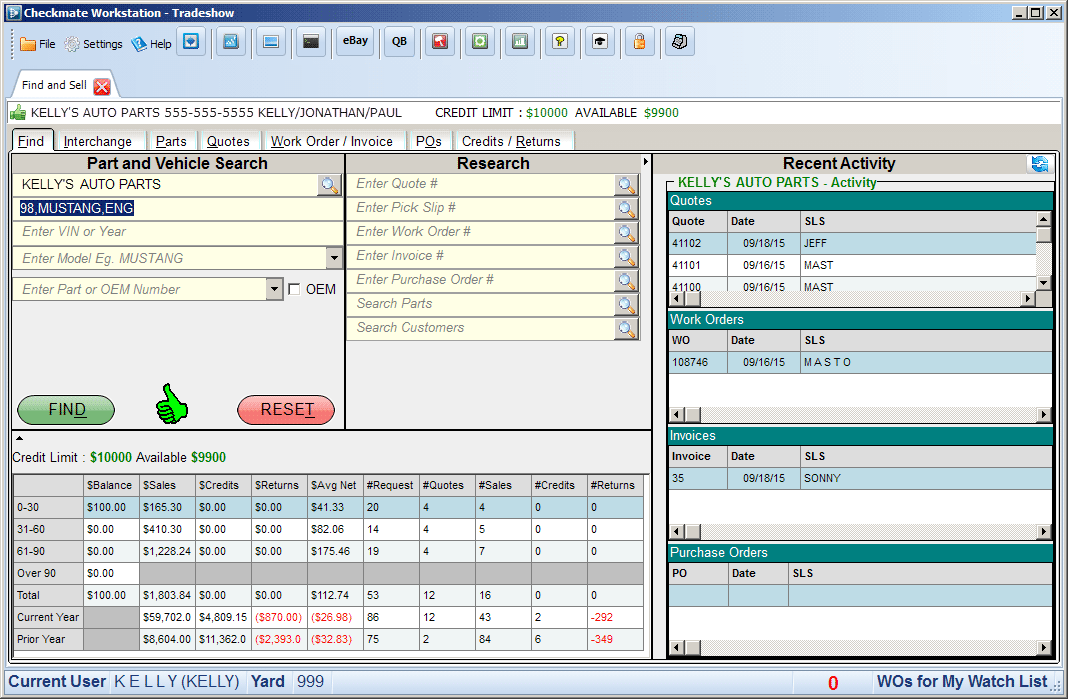 From your search results, you can:


Totally customize your screen to show the information you want with each part
Quickly view the sales history for a particular part and interchange
View part and vehicle images for each result, and easily email images to customers
Easily sell multiple parts at once
View Car-Part Exchange parts in your results, so you can work with brokered parts as easily as inventoried parts
View Car-Part Demand Data
View the core value of a part, and include this core value on the invoice
Create quotes, work orders, invoices, credits, and returns with just one click or keystroke
Automatically create purchase orders as you work, and print or easily email them
Email invoices with barcodes
Access Inventory Pro to edit part information and keep your inventory clean and accurate
Launch a Trading Partners search to find or Price your parts
View pricing suggestions based on your sales history - Checkmate will analyze the history of the part and suggest when it's time to push a sale
Add unlimited private part notes - your inventory crew and sales team stay in communication with time-stamped notes on each part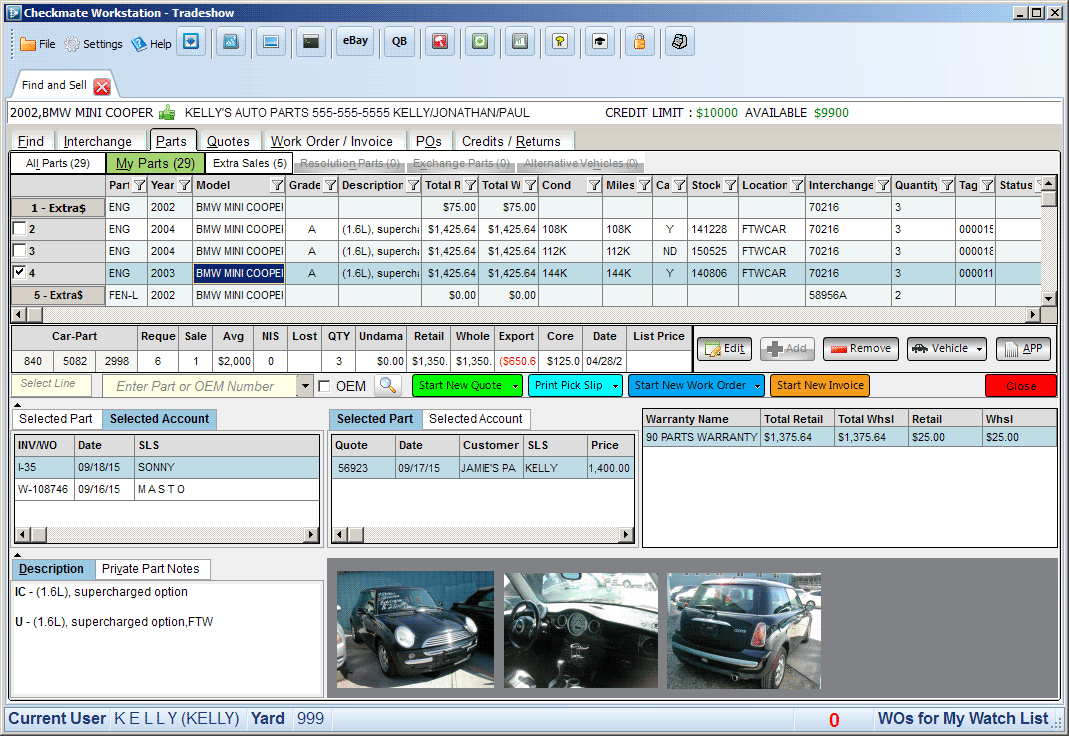 ---
The traditional version of Checkmate is still available, now it's called Checkmate Retro. You can even have Checkmate Retro and Checkmate Sales Pro at work on the same machine! Each user can use Checkmate the way they like best.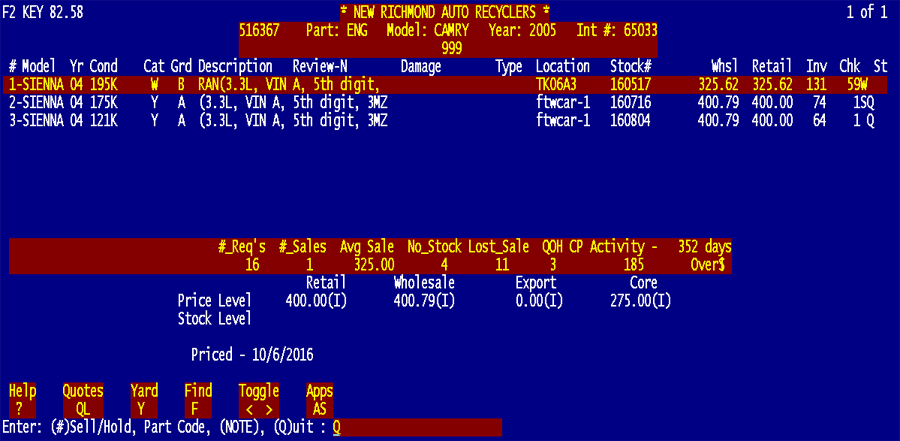 ---
Inventory Pro is Checkmate's "command central" for inventory management. Not only can you add vehicle records and add loose parts, but it's also simple and straightforward for you to maintain inventory information. "Drill down" to exactly the parts you want to edit, then make/save your changes in just a few clicks. It's a snap to edit hundreds of parts at once, so you can quickly adjust to the market and encourage sales.

For example, you can:


Search for engines that have been in stock for over 2 years, and decrease all the prices by 10%.
Identify which parts are popular in your region, but that aren't getting many requests at your business. Edit part information or send the parts to Photomate (so your team can take pictures on their smartphones).
Review and update the highest-dollar Resolution Parts. (These are the parts that you have in inventory, but they need interchange assigned - like when you first sign up for Car-Part Interchange Plus.) This is crucial - if parts are in Resolution, they don't show up in Car-Part.com searches!
Find parts that are still bolted onto a vehicle you're crushing, to scrap them and remove them from inventory.

Important changes like these can be made rapidly in Inventory Pro, so you can ensure that your parts are accurately described and priced when they're uploaded to online part listings, like on Car-Part.com or eBay.

Here's a demonstration of how some of these features work:






---
Checkmate Workstation gives you access to many Checkmate and Car-Part tools from within one program, and these tools help you increase sales and improve your business's efficiency. Checkmate Workstation is free with Internet Checkmate, but some of the tools require an additional charge.


The Checkmate Workstation Dashboard gives you a real-time overview of your business, with up to 24 "gadgets" that display charts and graphs with essential information about sales, inventory, employees, and more. These gadgets can calculate your business information for today, a day in the past, or for a specific time span. Click to learn more.


Checkmate Imaging allows you to easily add images to your parts and vehicles. These images can then be viewed in Checkmate or uploaded online to Car-Part.com, Car-Part Pro, Trading Partners, your own website, and eBay. When you can see a picture of a part or vehicle, you can make more informed decisions when deciding between similar parts. Imaging increases employee productivity by enabling them to more accurately select which part to pull. Click to learn more.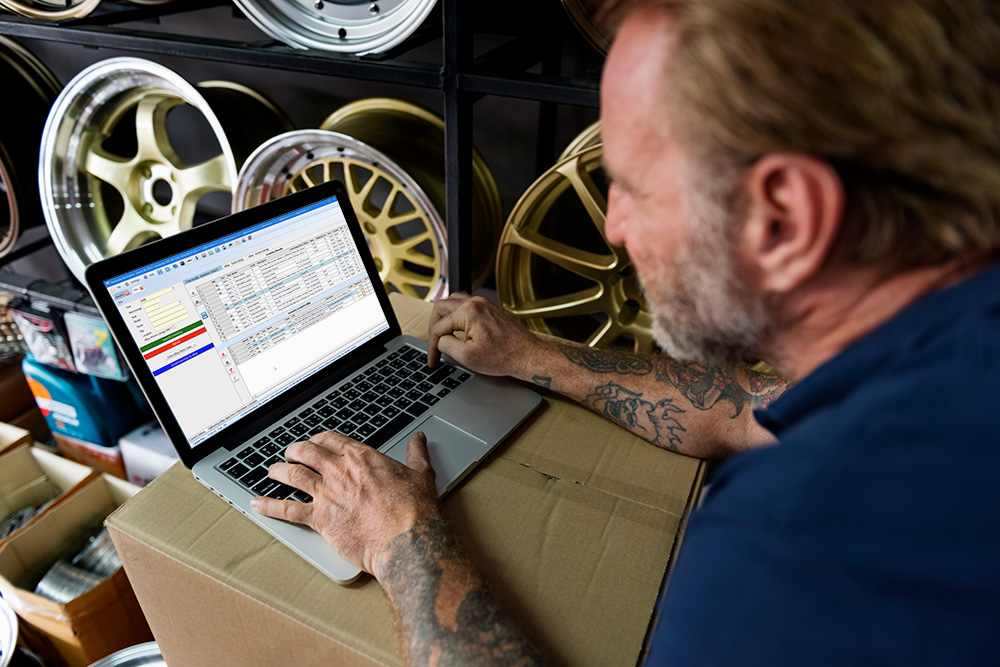 Our Checkmate Listing Manager for eBay tool allows you to list many parts on eBay at once, with just the click of a button. eBay gives you the opportunity to sell parts that may not sell frequently in your yard. It's fast and easy because our eBay tool automatically pulls detailed information and images from Checkmate and creates the listing for you! Click to learn more.


The Accounting feature in Checkmate provides you with the ability to look up customer accounts and retrieve invoices. With this feature, you can also make payments and issue credits towards those customers. Click to learn more.



Checkmate Reports dramatically increase your ability to access business data that is stored in your Checkmate inventory management system. These reports allow you to view your business in a comprehensive way that helps you make better business decisions and manage more effectively. Click to learn more.


Take your profits to the next level! Advanced Management Reports is an upgrade to the standard Checkmate Reports (the upgrade is free for ICM Classic users). These are additional reports that help you unlock even more enhanced information to enable you to streamline your business, get the most out of your market and advertising dollar, and structure your buying to take full advantage of market demand. Click to learn more.


Easily open these other valuable Car-Part Products from or within Checkmate Workstation! Click to learn more.



---


UPS Worldship simplifies shipping for recyclers with high-volume shipping needs. WorldShip gives access to the complete range of UPS services, and streamlines your processes by connecting to Order Trakker, accounting systems, process packaging, and freight shipments, as well as displaying negotiated rates and tracking your shipments with email notifications.


EZ Route imports and plans your deliveries from Checkmate, telling you the most efficient way to make your deliveries. (EZ-Route software is not created by Car-Part.com. Visit the EZ-Route website to learn more about it.) It tracks your drivers' progress throughout the day to make sure they are delivering according to plan. You can tell your customers when to expect a delivery, and your driver can get turn-by-turn directions on a tablet. Calculate your delivery sales, save fuel costs, see your drivers' status in real time (and let your customers know when to expect a delivery), and more!



---


Car-Part Exchange is a parts-locating solution internal to Checkmate, which means you never have to leave your Checkmate program to find the parts you need. Car-Part Exchange provides you with immediate access to the inventories of the yards you frequently do business with.


Real Time Barcoding works with Checkmate to wirelessly scan and move your parts to different locations at your salvage yard, and to audit those parts to ensure the most accurate inventory at all times. You can generate reports to show which parts have been scanned, which were moved, who moved them, and what parts are missing from your inventory.


The Recycler Executive Roundtables are peer support groups that provide a forum for participants to share ideas and solve common problems in a confidential environment. These groups, facilitated by Car-Part, help you share ideas and solve common problems with non-competing recycling facility managers and owners.


Car-Part Interchange Plus (CPI+) is an interchange enhancement option that provides new and enhanced interchange for over 100 part types. CPI+ parts include running boards, steering wheels, trim panels, rocker mouldings, air shutters, trailer hitches, and more. With CPI+, you can inventory these parts and sell them easier on Car-Part.com marketplaces, including Car Part Pro. Tap into the $300 million/year CPI+ opportunity in the Car-Part.com marketplace!

Some products and features described on this page require an additional subscription.


---

Hardware/Software Requirements or Contact Your Sales Rep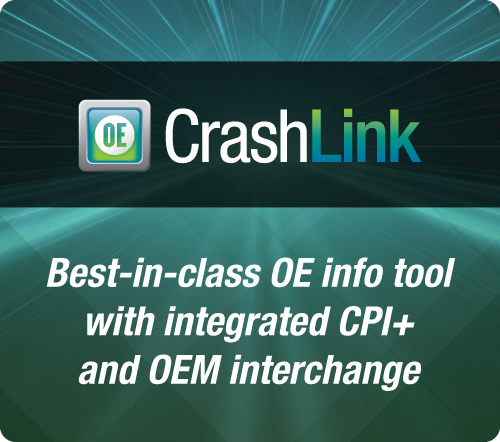 Questions about our products?
Call Car-Part at (859) 344-1925. You can also reach us via email for sales assistance or general information.