---
Since 1949, A&A Midwest has been known for its excellent customer service. For 67 years, this family business has been supplying engine, transmission and internal parts cores to engine rebuilders and machine shops. Each day, A&M Midwest process over 500 engine and transmissions within their facilities, and have thousands of engine and transmission parts in their inventory. This company also considers themselves to be "green" as they frequently purchase automotive, and non-automotive recyclable scraps from landfills.





---
Located in Dallas, Texas, Bishop International is a source for discounted prices on quality new and reconditioned automotive parts. They are a worldwide leader and supplier of rebuildable cores, buying and selling thousands of cores each year. Bishop International also buys and sell all types of automotive scrap to their customers.





---
Located in Abbotsford, British Columbia, Canada, Canadian Auto Cores is a full line core supplier that services the automotive recycling industry in Western Canada. Canadian Cores has had continuous growth since their start over twenty years ago, and believe that trust and great service are what make a company successful. This company has recently launched a VIN Search program that has helped ensure excellent service, competitive prices, and integrity.





---
J & D Core Supply was founded in 1991, and focuses on brake calipers as to ensure customers that they are receiving the highest-quality product possible. Their inventory at any time ranges between 80,000 to 100,000 parts. At J & D there is over 27,000 square feet of indoor storage space, services are quick and friendly, processing is done efficiently, and payments can be quick and easy.





---
MCI Cores is one of the largest buyers and suppliers of used and automotive parts in the world. They remanufacture and direct install anything from A/C Compressors to Power Steering Pumps, all while providing top service and quality to customers. Their main source of parts is automotive dismantling, salvage, and wrecking yards.





---
Phoenix Automotive Cores has over 400,000 parts in stock and purchases about 15,000 parts per month. They believe firmly in quality customer service, and their philosophy is one of excellence. In the past several years, Phoenix Automotive Cores has expanded their business to markets in Europe, Mexico, Central America, and South America. They were the first core supplier to be invited by the ARA University to provide training for automotive recyclers.





---


or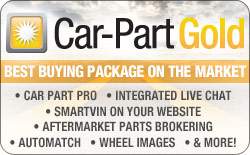 Questions about our products?
Call Car-Part at (859) 344-1925. You can also reach us via email for sales assistance or general information.