CrashLink works closely with:

Multiple products can be
bundled to save you money.
Contact your salesperson for
details. CrashLink has 2 main purposes:
CrashLink™ helps you quickly access OEM pricing information that you used to spend time looking for in crash catalogs. Using Motor® data, CrashLink helps you determine the best price for your customers and provides you with list price history, application information, and part diagrams. It's fully integrated with Car-Part Interchange Plus (CPI+), and you can access CrashLink with the press of a button from within your inventory management system!

You can even use CrashLink to assign CPI+ to your online part listings. Although CPI+ has traditionally only been available to Checkmate users, CrashLink's Inventory tools enable Powerlink® and Pinnacle® users to assign CPI+ interchange to parts in inventory. When you use CrashLink to do this, your parts listed in Car-Part.com marketplaces have CPI+ assigned (so buyers can find your parts).







Use CrashLink's collision pricing and imaging features when:
You have a part in stock, but you don't have any price in your inventory management system. CrashLink helps you research the price before you provide a quote. (CrashLink even works for non-interchange parts!)
You need to research application information for parts without interchange. CrashLink helps you research the year ranges and applications to ensure a good fit.
You want to see Labor information before quoting a price.
You're inventorying a vehicle in Partmate, and have no Price Book information. CrashLink helps you research fair prices.
You have a loose part with no tag, but with an OEM part number. CrashLink helps you look up the OEM number, view diagrams, and identify the vehicle it belongs to.
You use Powerlink or Pinnacle inventory management systems, but you still want to take advantage of Car-Part Interchange Plus (CPI+) in your online part listings.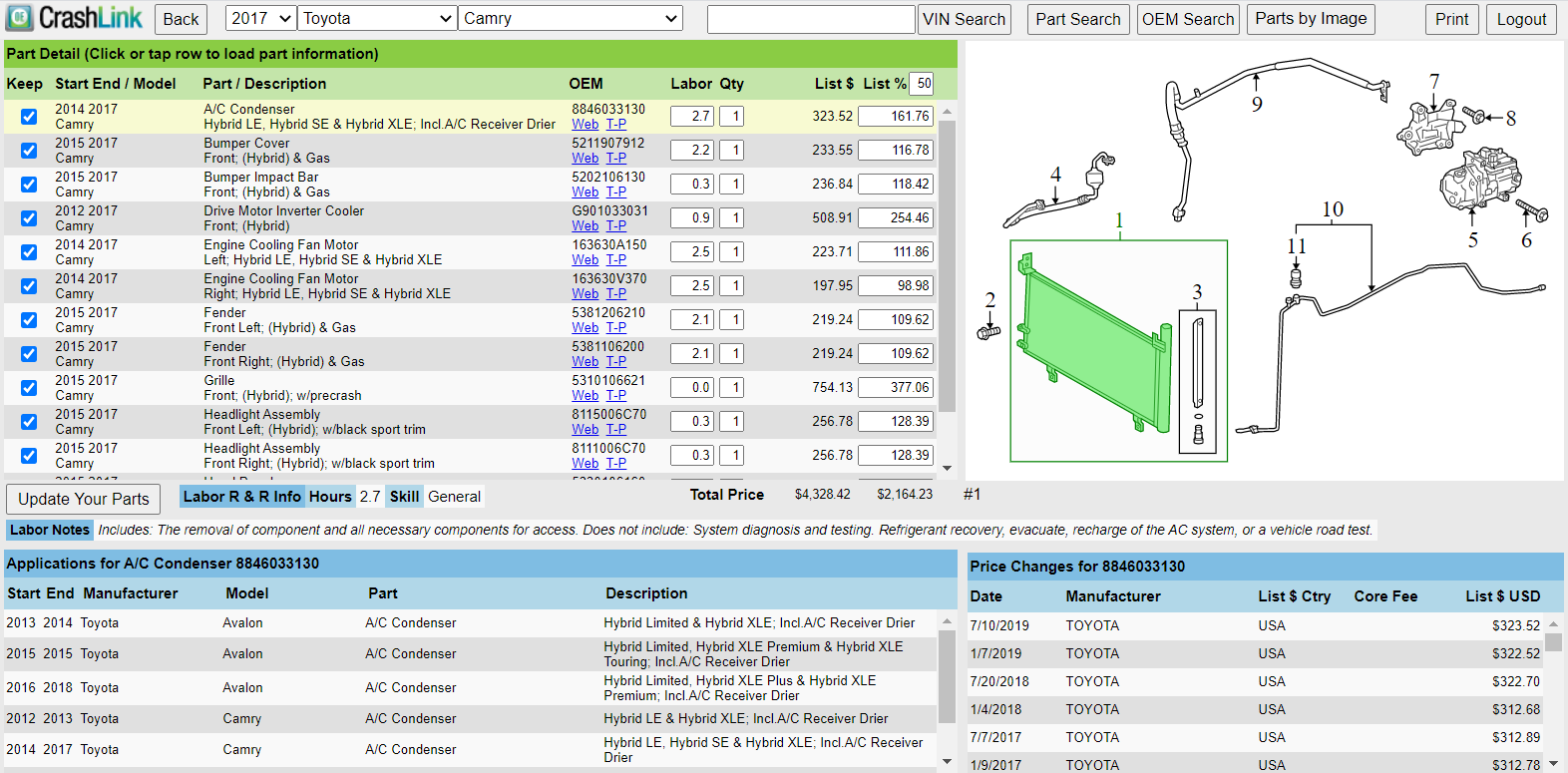 ---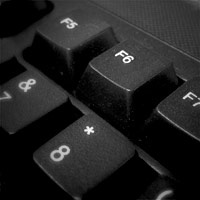 Step 1: Begin a CrashLink Search
When you're working in your management system, just press your F-key (usually F6 in Checkmate and Powerlink, or Shift +F6 in Pinnacle).

In Bidmate or Partmate, click/tap the CL button.

Step 2: Part Selection/"Questions" Page
CrashLink opens in your browser, with a list of parts that match your search. (Assemblies will also show related parts.) This page shows you the most current List $ price for the parts, provides a Web link that searches this OEM number on Google, and provides a TP link that searches this part on Trading Partners. (If you subscribe to it, Labor R&R Info is also available.)

Select the parts you want to search and click Add to Your Parts.




Step 3: Pricing/Information
The Pricing/Information screen opens. This is the main CrashLink screen, with the information you want about list prices, pricing history, part applications, and diagrams. (If you subscribe to it, Labor R&R Info is also available.) This screen helps you research the part and determine the selling price using a built-in percentage calculator. Use this information to quote a part, identify a part, or update your Price Book.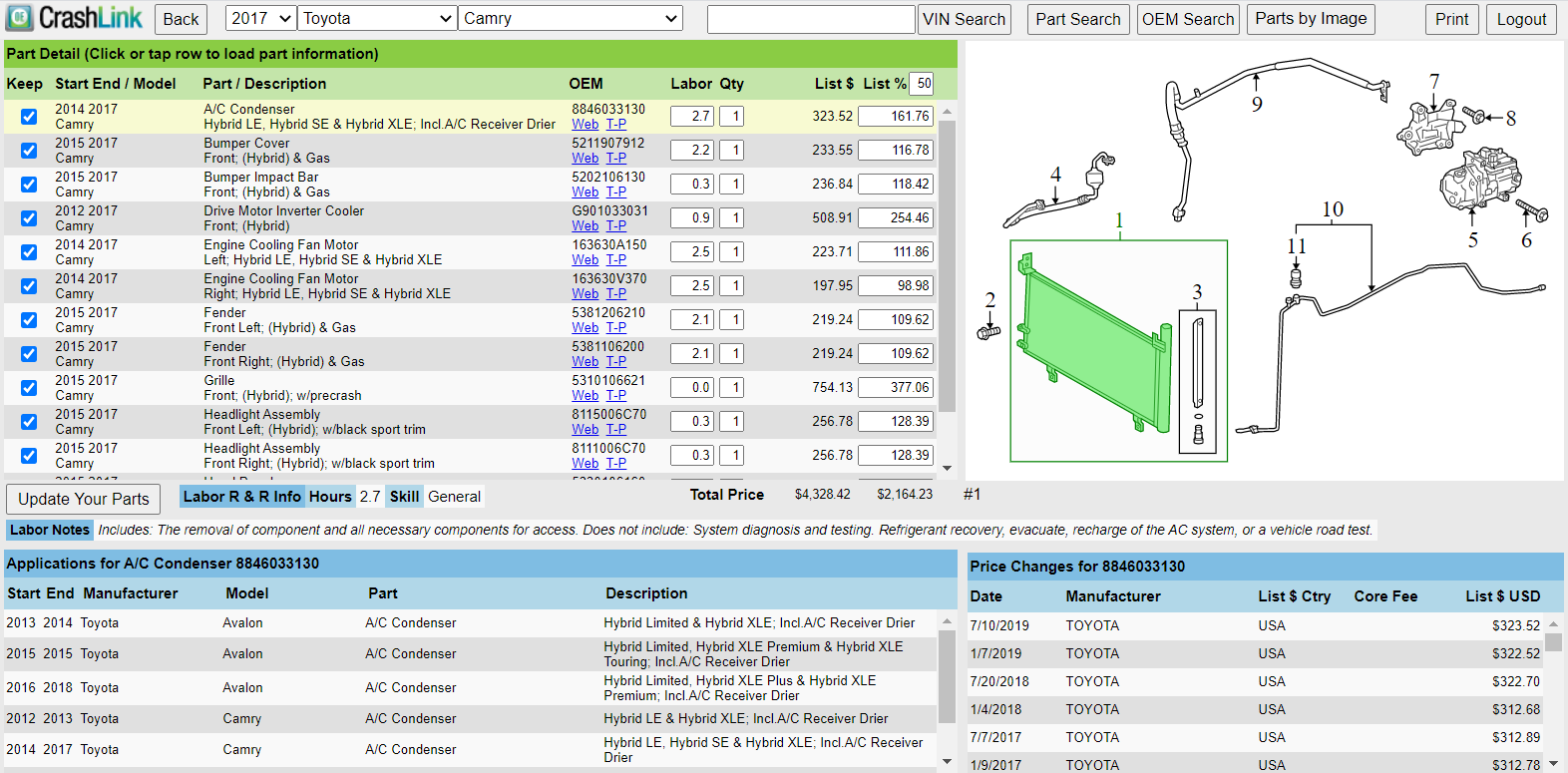 ---



The workflow above is the most popular, integrated way to search. But you can also:
Log in to CrashLink in your browser
Search for parts by keyword
Browse part categories
Search for parts by OEM number
Identify parts by image
Search by VIN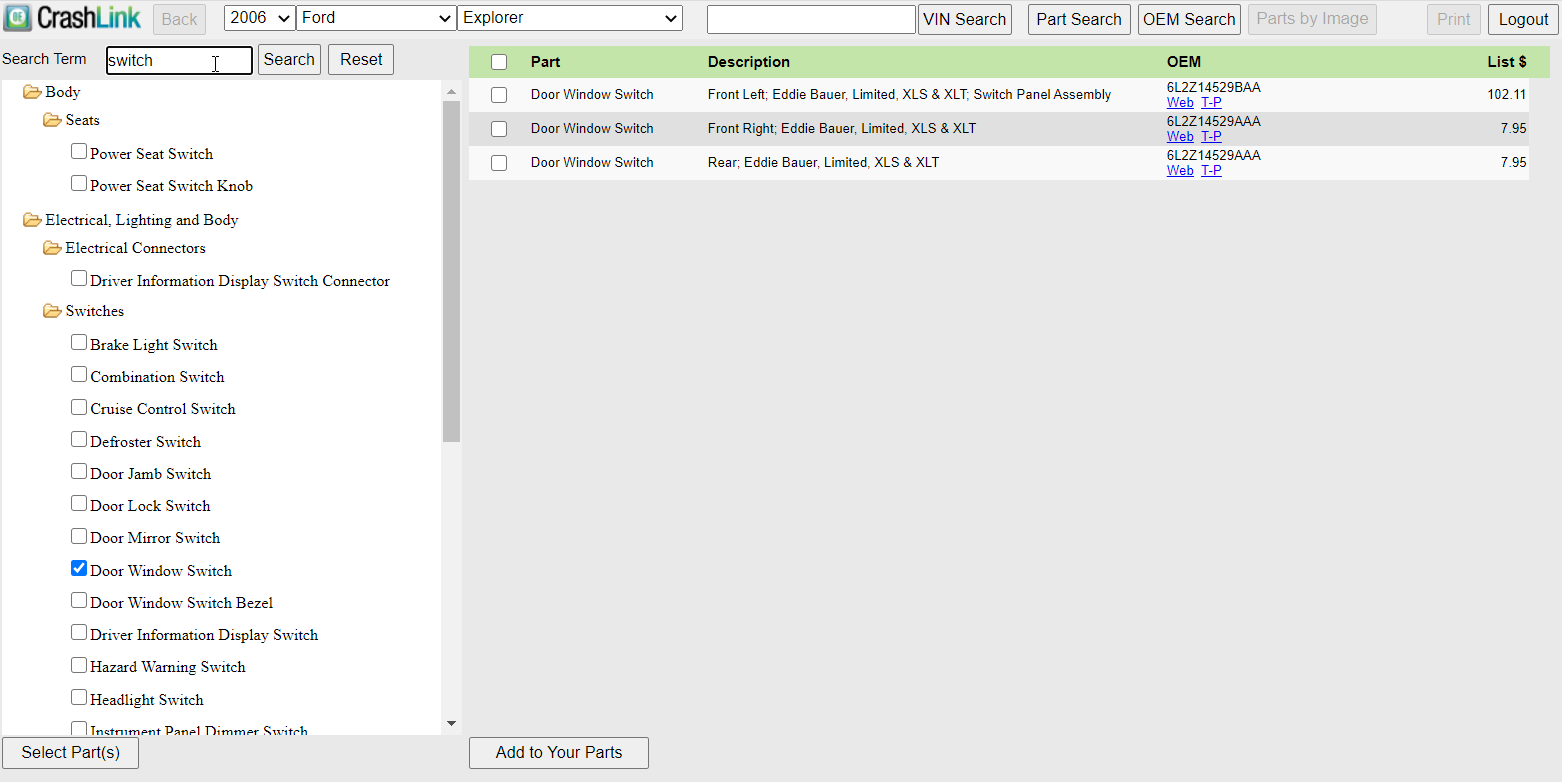 ---



CrashLink puts Car-Part Interchange Plus (CPI+) within reach for Pinnacle and Powerlink users. Although CPI+ has previously only been available to Checkmate users, CrashLink's Inventory tools now enable you to assign CPI+ interchange to your parts even if you use a different inventory management system (IMS). CPI+ has new and enhanced interchange for over 100 part types (including Mitsubishi models 2009 and up, and Mazda models 2015 and up). About 90 of these part types can have interchange assigned in CrashLink. This is a major opportunity because parts with interchange are much more visible in online searches on Car-Part.com marketplaces.




Here's how it works:



After parts have been inventoried in your IMS and the information has been uploaded to Car-Part.com (which usually happens nightly), then your inventory is available to work with in CrashLink.

The Vehicle Potential tool enables you to find valuable CPI+ parts by vehicle, and the Part Potential tool enables you to find valuable CPI+ parts by part type. You can identify the vehicles and parts in your inventory that have the greatest opportunity for increased sales with CPI+.

The Vehicle and Part Potential tools put either your vehicles or CPI+ part types in a convenient, readable list. Use this list to prioritize your work by focusing on the most valuable vehicles or part types first (i.e., the greatest sales opportunities). To begin working, choose a vehicle or part type in the list and then click Analyze (to research OEM part information) or Resolve (to assign interchange to parts).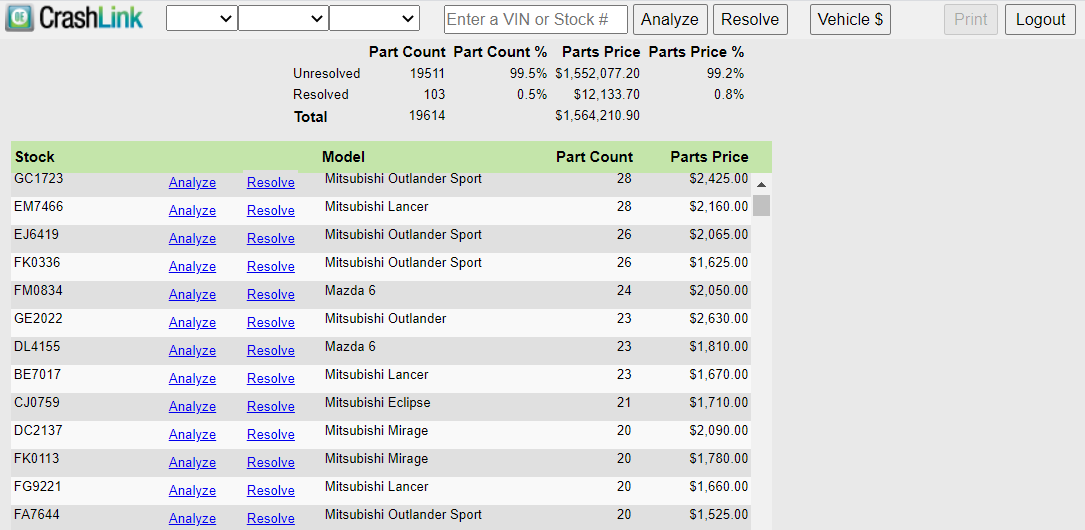 The Analyze tool helps you research the CPI+ parts on the vehicle, whether or not you have that vehicle in inventory. It includes a list of all CPI+ parts available on the vehicle and the available interchange options. This tool also includes all of the information you're used to seeing in CrashLink (OEM list price history, diagrams, and applications).

With the Analyze tool, you can filter by minimum price and print a list of parts/information for your inventory team. You can also save a list of parts to revisit later.

(If you're a Powerlink user, you can even enter R numbers to easily assign interchange here, instead of using the Resolve tool.)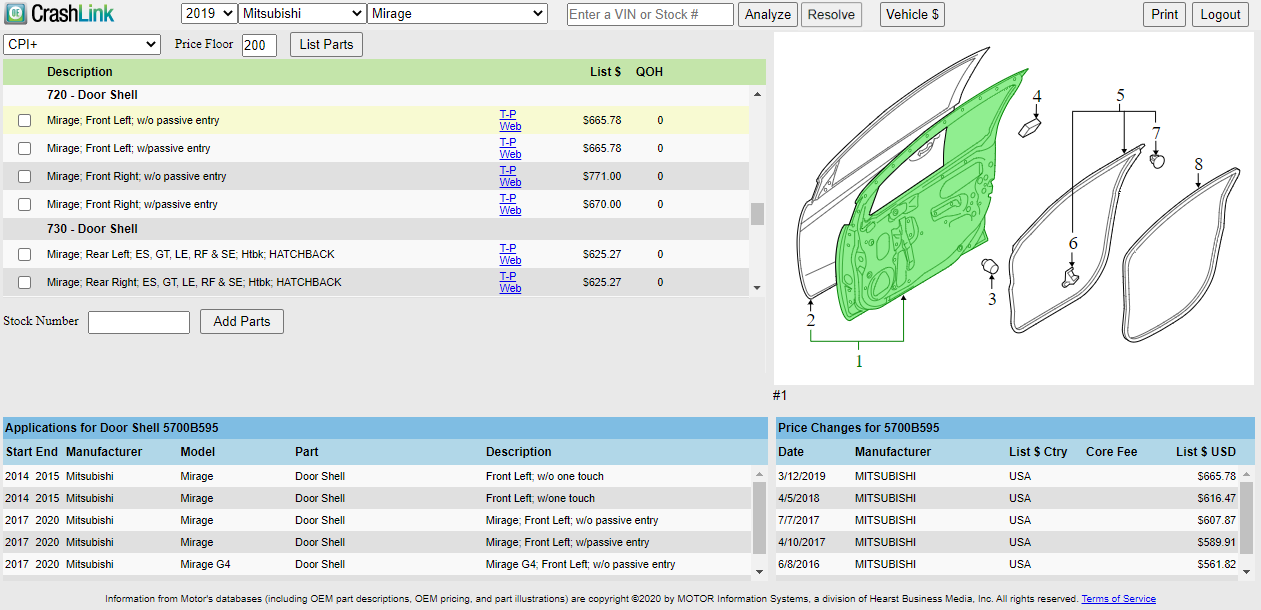 The Resolve Tool helps you assign CPI+ interchange to the parts you have inventoried and posted on Car-Part.com. When you look up a vehicle or CPI+ part type in the Resolve tool, you'll see a list of CPI+ parts on that vehicle, or that have that part type in common. You can Link an interchange option, which means that you're selecting which CPI+ interchange option is appropriate for your part. After an interchange option is linked, then that part will have interchange in Car-Part.com marketplaces. Buyers can now easily find it!







You can also:
Analyze a vehicle you don't yet have in stock (for example, when you're bidding).
Look up a specific vehicle to Resolve or Analyze, by stock number/VIN.
(Powerlink) Enter R Numbers in CrashLink simultaneously as you inventory the parts in Powerlink, even before the parts are uploaded to Car-Part. After your inventory is uploaded, this interchange will be linked.
Easily print a list of all the CPI+ parts on a vehicle (or even just the CPI+ parts you wish to prioritize!).

(It is important to note that some Inventory changes made in CrashLink take 1 business day to take effect. Also, when you use CrashLink to assign interchange to CPI+ parts, those parts will have interchange only in our online marketplaces. CPI+ is not available within the Powerlink or Pinnacle systems, and no interchange information will be updated within those IMSs themselves.)

CrashLink simplifies the process of researching part information and optimizing your inventory. For more information or to subscribe, contact your CrashLink sales rep.


---
Hardware/Software Requirements
or
Contact Your Sales Rep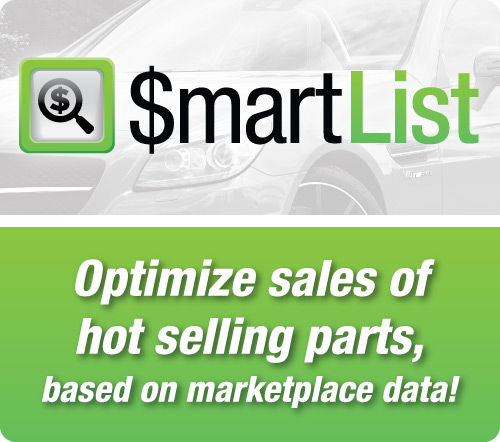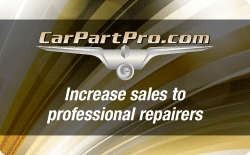 Questions about our products?
Call Car-Part at (859) 344-1925. You can also reach us via email for sales assistance or general information.