This page is an archive of previously-published content. The information was accurate at the time it was published; however, the information may no longer be accurate or complete. If you have any questions about current Car-Part products, please contact your sales or support rep.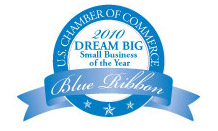 Car-Part.com Receives Blue Ribbon Small Business Award
We are pleased to announce that Car-Part.com has received the 2010 Blue Ribbon Small Business Award from the U.S. Chamber of Commerce! This award honors small businesses' critical role in creating jobs and growing the economy. Thomas Donohue, U.S. Chamber of Commerce president and CEO, said,
"This year's recipients of the Blue Ribbon Small Business Award are proof that the American entrepreneurial spirit is as strong as ever. We're relying on small businesses to lead us out of this recession, create new jobs, and get our economy moving again, and these companies are leading the way... The Blue Ribbon Small Business award is about more than recognizing financially successful businesses. It's about honoring those that show a commitment to their employees, sound business practices, and bettering their communities. These companies have made these commitments, and the Chamber is proud to recognize their contributions."
A record number of applicants from many different industries across the nation competed for the award, and Car-Part.com is one of only 75 recipients. This is a truly outstanding achievement and we are honored to be included. On March 15, seven of the award recipients will be named as finalists, and one will go on to receive the DREAM BIG Small Business of the Year award.

As a Blue Ribbon Small Business Award recipient, Car-Part.com is now also eligible for the Community Excellence Award. This award is designed to highlight a small business that demonstrates excellence in the eyes of their customers, community, and employees. The Community Excellence Award is determined by public voting, so we need your help! Please visit www.uschambersummit.com/cea-award before Friday, March 12 to vote for Car-Part.com. The winner will be announced on May 18 at America's Small Business Summit in Washington, D.C.



Did You Know?



SmartVin™, Car-Part.com's exclusive VIN-decoding technology, narrows down interchange choices to one or none 60% of the time. It narrows down interchange choices to four or fewer 94% of the time. SmartVin is integrated into Checkmate®, Bidmate™, and Partmate™.