RAM: 4GB
Disk Space: 128GB (Minimum 15GB of free hard drive space is required for installation of Bidmate and/or Partmate.)
Operating System:

Windows 7
Windows 8
Windows 8.1.
Windows 10



The following operating systems are not compatible:

Consult a support representative to inquire about other operating systems.
RAM: 4GB
Disk Space: 128GB (15GB of free space is required for installation of Bidmate and/or Partmate.)
Camera: Rear-facing. 5MP or 8MP recommended. 2MP minimum.
Operating System: Windows 8 or higher recommended. Windows 7 minimum. Windows RT and Windows 10 S versions are not compatible.
Processor: Intel I3 or higher recommended.* An Intel Atom Zxxxx processor may limit the resolutions that are available for capturing images.
*Intel 6th generation processors (e.g., I5-6300) are not yet approved.



We recommend the Acer Aspire Switch 11 V SW5-173P-61RD. It has a 4GB RAM/128 GB SSD storage configuration, and a 5MP rear-facing camera. It comes standard with Windows 10 Pro and also comes with a detachable keyboard.

Other tablet options that meet our requirements include:
Microsoft Surface Pro 4
Dell Venue 11 Pro
Panasonic Toughpad FZ-G1 (built specifically for outdoor use)
Internet Checkmate
Telnet Checkmate
Telnet Checkmate Junior
Fast Parts
While an Internet connection is not necessary to use Partmate, several features, such as Car-Part Trading Partners™, are not available without it. Updates can also be downloaded via the Internet.
---
Contact Your Sales Rep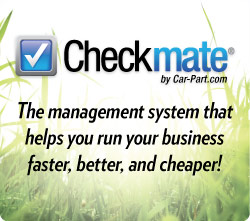 Questions about our products?
Call Car-Part at (859) 344-1925. You can also reach us via email for sales assistance or general information.