Car-Part.com's Trading Partners™ (F-key) software will run on Windows®-based PCs, including Windows 98, Windows 2000, Windows ME, Windows XP, Windows Vista, Windows 8, and Windows 10. Windows 10 S is not supported.
Pinnacle®

Pinnacle Pro

Powerlink®

Powerlink II

AimsŪ

Isoft®
Our Trading Partners software has the ability to be used by sites that do not use any sort of management system. As long as you have a PC that meets the hardware and Internet requirements, we can set up a link that will allow you to search specific trading partners either by application or by part code and interchange code.
An Internet connection is required to use Car-Part's Trading Partners software. For best results we recommend a broadband connection (Cable, DSL, T1, etc), but a dial-up connection will also work. It is important to note, however, that a dial-up connection will slow down Trading Partner searches.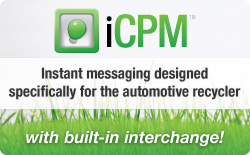 Questions about our products?
Call Car-Part at (859) 344-1925. You can also reach us via email for sales assistance or general information.