Car Part Pro works closely with:

Multiple products can be
bundled to save you money.
Contact your salesperson for
details. To increase the use of recycled parts in the collision repair industry, it needs to be easy to source, buy, and use recycled parts. Car Part Pro's robust marketplace, rich features, and close alignment with collision repairers' workflows, are increasing recycled part usage—and industry success in overcoming today's challenges.

Car Part Pro puts your parts in front of professional repairers, body shops, and insurance appraisers. With Car Part Pro, these professionals enjoy an enhanced part search that allows them to filter by information not available on the classic Car-Part.com search, including delivery days, warranties, supplier certifications, and more.

With Integrated Car Part Pro (iPro), we integrate with all 3 major estimating systems. One click inside the estimating system activates iPro, which reads the estimate and launches the iPro marketplace. When the buyer has found all of the parts they need, it's easy to add your parts back to their estimate with our two-way integration.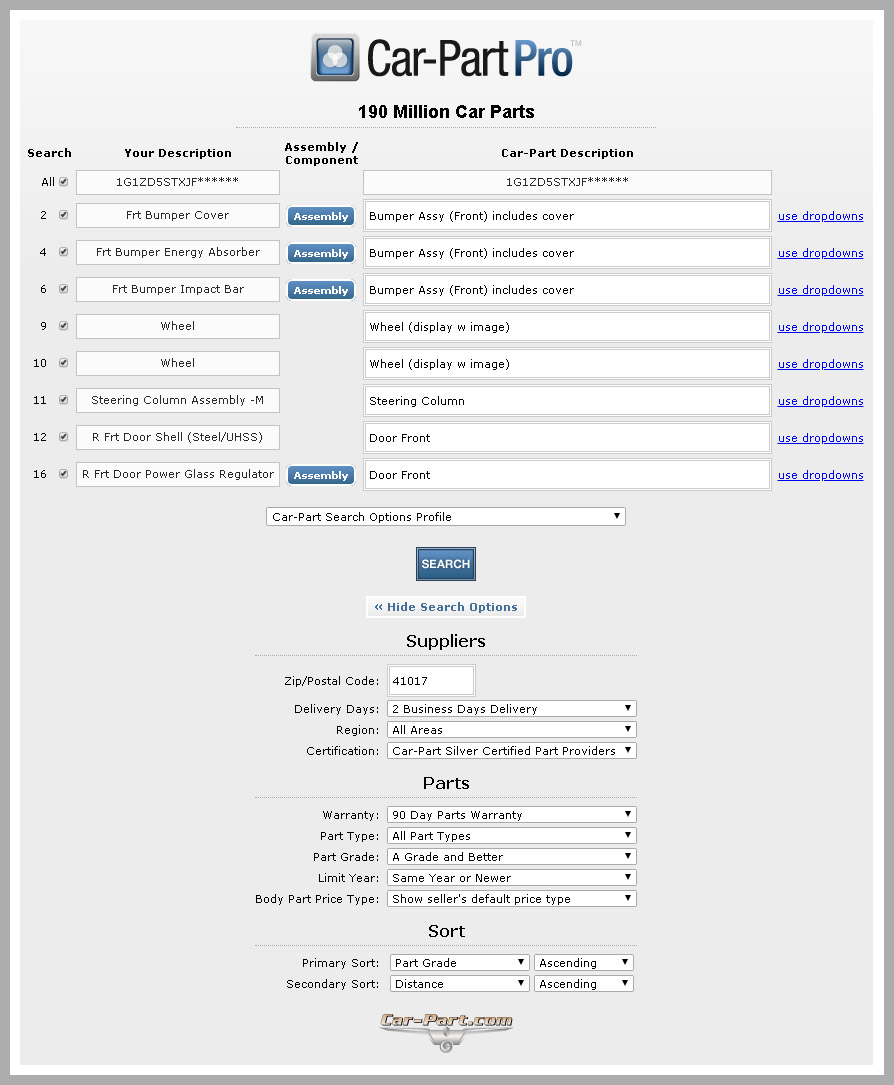 For insurers and shops, availability of parts is key. iPro's focus on availability is unmatched. We start with 4,400 recycled, aftermarket, discount OE, and remanufacturer distribution locations. When we factor in 15,000 supply chain relationships between all of these suppliers (based on your Brokering relationships), we provide the collision repair industry with a robust marketplace they return to again and again to find their parts.


iPro integrates with all 3 estimating systems. These systems are designed around OEM components, but the recycling industry is designed around assemblies (because assemblies provide the greatest value). One click inside the estimating system activates iPro, which reads the estimate and launches the iPro marketplace with the list of parts being replaced. iPro's workflow (and mappings) bridge that component/assembly gap to optimize the use of assemblies (and recycled parts). Many of the top selected iPro parts are assemblies!



Detailed Filters. Car Part Pro users can filter their search results to show only parts that meet their criteria for delivery times, warranty, part quality, supplier certifications, and more. With these filters, Car Part Pro users see only those parts that meet their criteria.
Delivery Times. When collision repairers are buying recycled parts, one of the biggest concerns has traditionally been the lack of reliable delivery estimates. With Car Part Pro, we use the information you give us about the way your business runs to produce this information and incorporate it into the search. When someone buys a part they found on Car Part Pro, they know when the part will arrive at the shop, and what condition it will be in.

When you sign up for Car Part Pro, we'll have a detailed conversation with you about how your business operates, how quickly you get parts out the door, what kind of warranties you offer, your business hours, where you deliver parts, etc. We'll use this information to configure Car Part Pro and provide buyers with accurate delivery times. When you have a brokering relationship with another recycler, we'll also take their business practices into account. It's all completely automatic.
Inclusive Pricing. Prices on Car Part Pro include the user's delivery and warranty selections. This makes it simple for the buyer to know what they'll pay, and helps you boost your warranty sales. Car Part Pro effectively up-sells warranties for you whenever your part has a warranty that is equal to or greater than the warranty the buyer searches for.
Easy Part Ordering. Part ordering is integrated with Mitchell's RepairCenter shop management system. One click launches Car Part Pro from within RepairCenter, and iPro updates Repair Center's Repair Order and Purchase Order. Car Part Pro provides part ordering for thousands of auto recyclers.
Car-Part Interchange Plus, SmartVin, Live Chat. All of the popular features from the classic Car-Part.com search are still available on Car Part Pro.


Car-Part Certification levels are awarded to recyclers in our database who meet certain requirements. In Car Part Pro search results, these recyclers will have a Gold, Silver, or Bronze star next to their names. These certification levels help buyers identify highly rated recyclers at a glance, and make it easier to buy from a seller they haven't worked with before.


iCPM users have access to another feature with the Verify tab. For Car Part Pro search users, the search results feature a Confirm Availability button. Because a part may be sold or otherwise changed after your inventory is uploaded, our Confirm Availability button allows your customers to instantly confirm that the information they see about availability and condition is still accurate, without actually ordering the part. The Verify tab in iCPM will show an immediate notification every time someone uses this button on one of your parts. It will include details such as the part information, user type, contact information, price breakdown, and the message they received from the service. As you can see, each notification contains valuable sales leads!




To sell your parts to these high-volume buyers with Car Part Pro, you must be a Car-Part Gold subscriber. For more information about Car Part Pro, Car-Part Gold, or any of our other products, contact your sales rep!


---

Requirements or Contact Your Sales Rep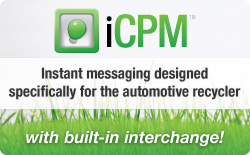 Questions about our products?
Call Car-Part at (859) 344-1925. You can also reach us via email for sales assistance or general information.